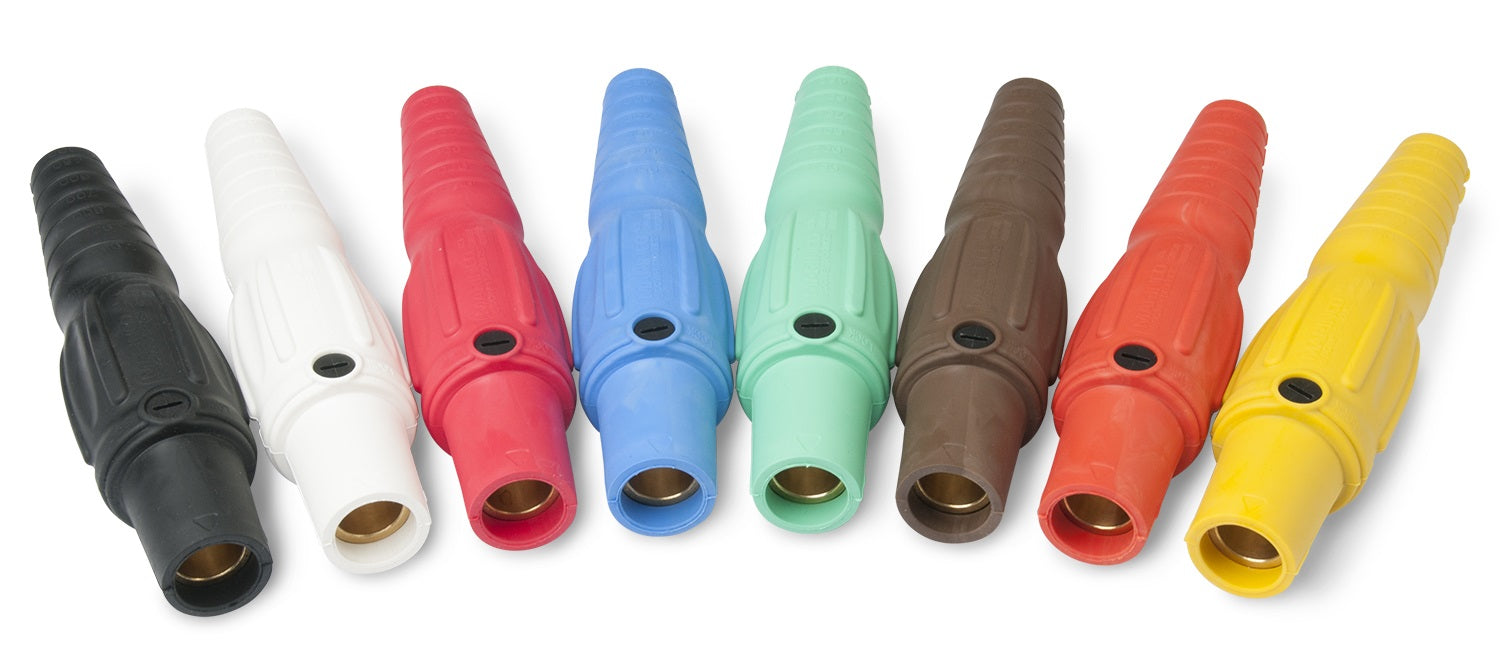 Important Things to Know About Male and Female CAM Lock Connectors
In this guide, we are going to discuss more about CAM lock electrical connectors specifically. You can learn about what CAM lock electrical connectors are, as well as the difference between female and male CAM lock connectors. 
What Are CAM Lock Electrical Connectors? 
A CAM Lock connector is an interchangeable single-pole electrical connector often used in temporary electrical power production and distribution in North America. They are used by a wide range of industries and firms, including military, pharmaceutical, chemical, gas, oil, agriculture, and manufacturing.

When it comes to any sort of electrical circuit, the connectors play a pivotal role. Connectors are utilized so that subsections of the circuit will be joined together effectively. Typically, a connector is utilized where it could be desirable for the subsections to be disconnected at some point.

CAM Lock connectors are often used where more than 50A is required or 3 phase temporary connections are needed  to connect generators or building disconnects to distribution panels, or for test connections to load bank equipment for generator load certification. For example, they are often used for special events and the interconnection of entertainment lighting and sound equipment to power sources.

CAM lock connectors are also utilized for building disconnects to light dimmer racks and panels for distribution. Typically found in industrial and professional settings, these connectors will have an IP67 rating, as well as being individually keyed and color-coded.

The wires are insulated to ensure that you do not touch a live connector. This is imperative because it gets rid of exposed contact points within the insulator, which could result in very severe injuries and sometimes even fatal ones.

CAM Lock connector color coding is very similar to other single-pole devices within the United States. Blue is for line 3, red is for line 2, black is for line 1, white is neutral, and green is for the grounding connector. (1)
What's the Difference Between Male and Female CAM Lock Connectors?

There are lots of different terms that you need to familiarize yourself with when it comes to circuit connectors. The gender of your connector makes a big difference. This refers to whether it is plugged into or it plugs in. In most cases, connectors that are plugged into are known as female connectors. If you use a connector that is plugged in, this will be known as a male connector.

Unfortunately, to make matters confusing, there have been a number of instances whereby connectors are labelled as 'male' even though it seems to be female. 
How to Choose the Best Possible CAM Lock Fitting for Your Circuit
There are a number of different factors that should be taken into consideration when looking for the best CAM lock for your requirements. Two of the main things that need to be considered include application and size. The industry you operate in and your reason for needing a CAM lock is going to make a big difference in terms of what fitting is going to be right for you.

Aside from this, you should also consider the temperature, as well as the media or material that is being used. In addition, you will obviously want to look into practical factors such as the cost, delivery, and shipping expenses. Other particulars regarding the connector itself include the pressure rating that is needed, as well as the media or material that is being used.
Here are some CAM lock connectors that are offered by ATI Electrical.
Leviton Rhino-Hide Connectors
Leviton Single Pole Cam-Type Connectors are designed for easy assembly and disassembly without special tools. A thermoplastic screw is used to tightly secure the contact inside the insulating sleeve, making assembly, disassembly and field repairs effortless.

The plugs use plastic locking and reinforcement rings molded into insulating sleeves and receptacles ensuring the integrity of the connection. Under severe stress and load conditions, these rings will not melt, break or crack.
Features:
Positive locking connection to maintain integrity even when high vibration is present

They are inter-mate able and compatible with other competitive brand cam type products (can be retrofitted)  

Designed for easy assembly and disassembly, without special tools. 

NEMA 3R rated for outdoor use when mated

Color-coding provides fast and easy phase identification 

Single or double set screw termination 

UL: 1691, 508 – 35k A / 600V Short Circuit Current Rating

Marinco CAM Lock Connectors
Marinco CLS Series inline connectors have a non-conductive retain screw which passes through the metal contact and fastens at both ends to the retaining ring, providing maximum resistance to excessive torque loading.

These CAM lock connectors from ATI Electrical feature:
Double set screws that have a locknut design which prevents them from loosening over time due to vibration. Can accommodate #2/0-4/0 AWG copper

Fitted with solid brass contact for optimal heat dissipation 

The electrical wiring of these CL series is straightforward: Use #2 to 2/0 cable, copper. 

Strip wire jacket 1-3/4 inch.
Hubbell CAM Lock Receptacles
Hubbell's heavy duty female & male receptacles come in a range of colors, are some of the industry best performing single pole connectors, designed for the most challenging environments. Powerful electrical performance - with Ampere Rating of 400A maximum and Voltage Rating of 600V AC Max, 250V DC Max, with Double Set screw. 
Crouse-Hinds Roughneck Series Connectors
These Roughneck E1049 series connectors are made rugged and hardy, ideal for land based drilling applications. They are designed to withstand heavy abuse all the while maintaining a safe and secure connection. Across the board, this series contains the following features:
Contacts machined from solid copper and specially plated for corrosion resistance and superior conductivity 

Color-coded rubber insulator provides quick visual identification of circuit and phase connections 

Watertight insulators provide maximum protection 

Male and female contacts are assembled to cable with standard crimp tools 

Drive pins on contacts securely lock it to the insulator 

Male contacts are equipped with safe front insulated tip
Alternatives to Cam Lock Connectors
There are some alternatives to CAM lock connectors if you would like to use different connectors in your circuits. A good example includes Powersafe single pole connectors. Powersafe single pole connectors are deemed the safest high current and low voltage plug for utility, military, power, and events industries.

If you are looking for a safe replacement for the cam lock connectors that are on the market, this is a good option to consider. They boast a number of useful features for you to make the most of too, including individual line locking mechanisms and finger-proof contracts too.

Connectors play a vital role when it comes to any sort of electrical circuit. Nevertheless, there are a number of different options for you to select from, and therefore, you need to choose with care.
If you are having difficulty deciding which product and brand is the correct one for your needs, contact us now at (800) 597-9311 or e-mail our portable power group at ppg@atielectrical.com to receive our expert opinion on what is right for you.