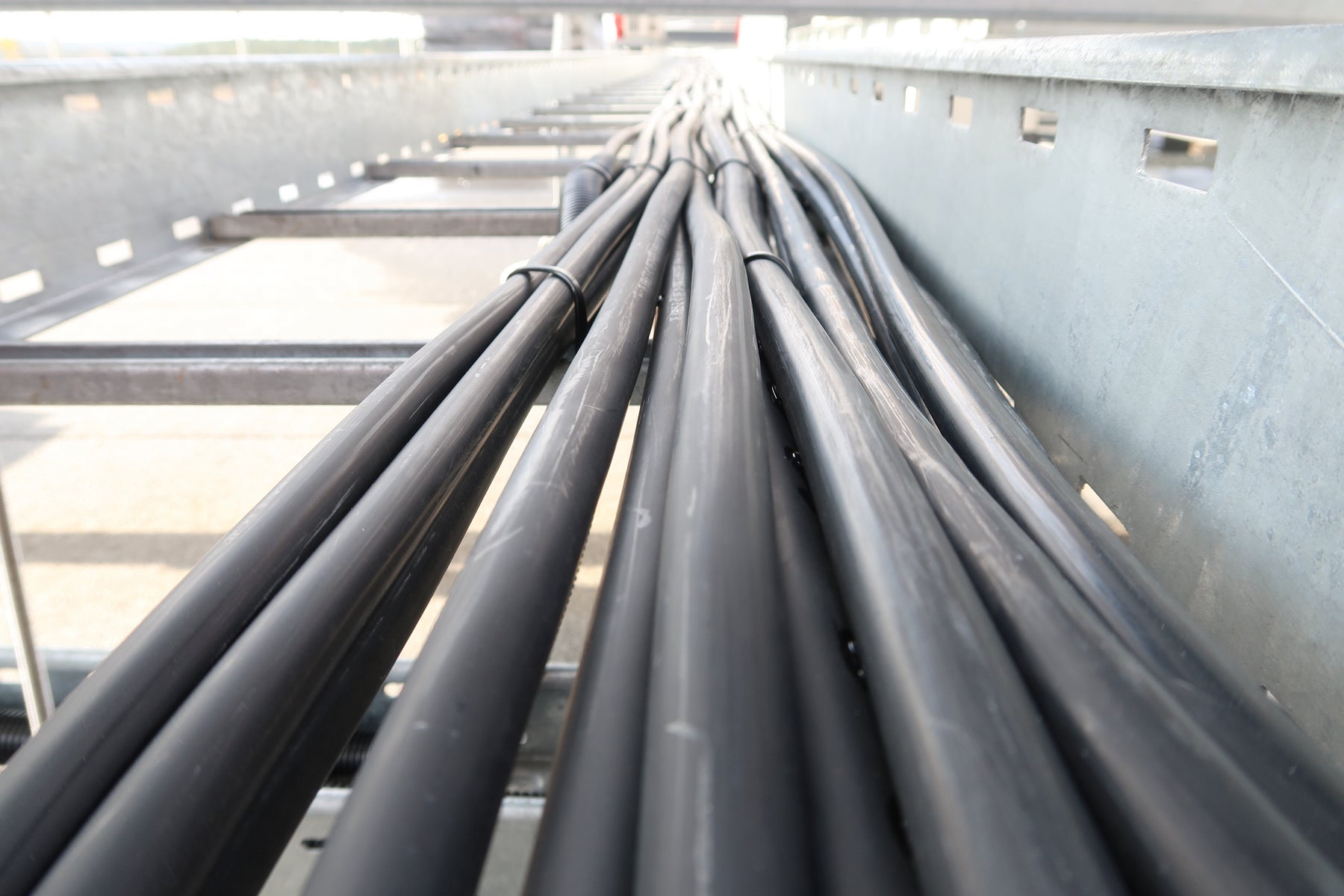 Why Are Cable Management Systems Important?
Cable management systems are essential for organizing and protecting your temporary power infrastructure. Cable management systems can be defined as the layout of an electrical network and how it's organized. Investing in a cable management system is a great way to enhance your team's safety and extend the lifespan of your cable assemblies. They also support a visually appealing work environment and protect cables from damage. These systems are an excellent way to stay organized and quickly troubleshoot any electrical malfunctions that may arise. In today's article, we'll explore different options for cable management systems and why it would benefit you. 
Different Types of Cable Management Systems
The three main categories of cable management systems include
 cable trays, hooks, and cord protectors. Cable trays are made of sturdy metal or plastic and are used to support and route cables in a safe and organized manner. They're commonly used with assemblies to get them out of harm's way. Our Cable Trays are an affordable way to route cables and even elevate them off the ground. Each tray features a wire-mesh system for ventilation and accessibility. We have cable trays available in different lengths that can be bolted together for custom configurations.
Cable hooks are another excellent option for mounting cables to walls or ceilings. ATI's Cable Hooks are extremely versatile and can be used for anything from cable management to an alternative ladder rack. ATI's Cable Hooks are manufactured in the USA and are made of premium materials, such as rust-resistant zinc-plated steel. We also offer hooks that can be bolted permanently into place and hooks with a quick-latch system.  Each hook features a slip-resistant design to hold cables securely in place, keeping them up and out of the way of equipment and heavy machinery. 
Safety and Compliance
Proper cable management can help prevent accidents by reducing the risk of tripping hazards. Loose cables are a liability because an employee could trip and hurt themselves. In addition, stepping on cables repetitively can create wear and tear that could damage the cables. If unmanaged cables are used continuously without a proper repair, it may result in electrical hazards that include electrical shock, fire, or even electrocution.
Abiding by safety regulations and building codes is crucial to keeping workers safe and completing a project on time. To ensure compliance with safety regulations and building codes, job site managers and electrical contractors need to stay up to date on the industry's latest compliance requirements. It's also important to conduct regular inspections of electrical infrastructure and cable management systems. Completing routine inspections of electrical infrastructure will ensure that all components are operating at full efficiency, which increases productivity and helps you avoid future equipment breakdowns.
Our cable management systems are made of high-quality, durable materials for long-lasting performance. ATI's cable management systems also feature flame retardant ratings for maximum safety and prevention of electrical fires. Our equipment is perfect for keeping cables protected, organized, and hidden from high-traffic areas. You can always count on us to provide best-in-class products that are compliant with industry regulations.
Protection From Damage
Cables that are not properly managed are left exposed to hazards that can damage them. 
When left unprotected, cables are often run over by cars or heavy-duty machinery, and even get tangled in equipment causing catastrophic malfunctions. Our Cord Protectors are quick and easy to install, providing you with a simple solution to preserve your cables. Each of our Cord Protectors are designed to withstand extreme weather conditions and foot traffic. We have a wide variety of Cord Protectors on our website in the cable management category, so it's easy to find a perfect match for your needs.
If you have any questions about our wide selection of products or would like to receive a quote, call us today at (800)-597-9311 or email us at PPG@atielectrical.com. All our portable power products are built to stand the test of time. We believe in rigorous quality control to ensure that each one of our products is of the highest possible standard. We're committed to offering products that you can depend on for years to come. Whether you're in the construction, mining, marine, or events management industry, ATI has the products you need to get the job done- and done right!