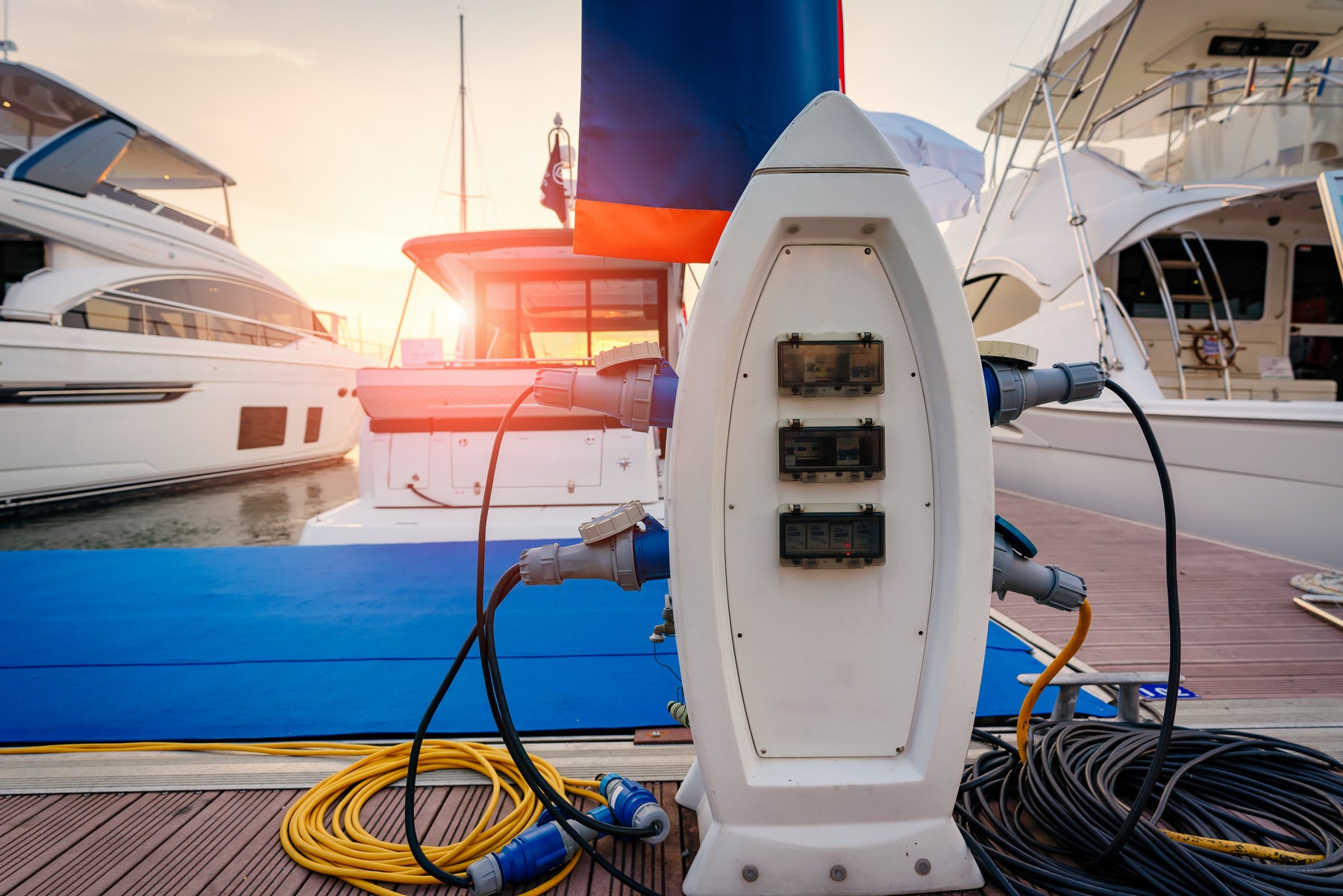 Marine Shore Power Basics: What You Need to Know
Marine vessels are often in need of an electrical power source to deliver a safe supply of power to all their tools and accessories on board - while docked at a port, shipyard, marina, or home. This is called Shore Power; which is an external source of electrical power, commonly supplied by a power pedestal or portable generator, which provides alternating current (AC) to your vessel. It's important to have accessible shore power at a marina to eliminate fuel consumption when docked for lengthy periods of time. You should never run your boat's engine when staying overnight, but rather find access to a safe and secure shore power connection to operate the appliances on board.
Depending on the size of your boat, it will require a specific amperage to power the appliances on board such as the air conditioning, microwave, or 120V power outlets. For example, mid-size boats under 40 feet typically use a 30-amp, 125V shore power connection that can provide enough power to support almost all the equipment on board the vessel. In this situation, you may run into the issue where your air conditioning will require too much power, and you will not be able to operate some of your other accessories on board from this smaller, 30-amp connection. The next step up for larger boats that are over 40 feet is a 50-amp 125V/250V connection or 100-amp single phase or 100-amp 3 phase connections for yachts requiring a substantial amount of energy to stay fully connected.
Marine Shore Power Cable Assemblies
ATI has recently launched a marine sales division to assist our customers with anything and everything marine - with shore power being one of our specialties! We stock electrical cables and connectors from multiple highly respectable marine brands such as Hubbell, Leviton, Arrowhart/Eaton, Power Assemblies, and Marinco Power Products. It's important that you only use shore power cables that are rated for marine grade use, which is why ATI stocks only the best. Give our team a call any time at (954)-644-3876, and we will be happy to help with all of your marine projects. No matter the application, ATI has got you covered. We stock bright yellow and black marine grade cable assemblies for all boat sizes with amperages ranging from 30A, to 50A, and even up to 100A single phase or three phases. ATI is proud to be your first-choice distributor for everything marine.
Custom cable assemblies and adapters are available directly on our website. Those of you who are constantly traveling to and from different marinas know how important it is to keep some marine adapters handy. Considering the fact that every marina is different, and they utilize different dockside outlets and inlets. Not all the power pedestals are the same, therefore depending on where you're docked, you could be needing a completely different configuration to get your boat connected. Fortunately, ATI stays prepared for these situations, and provides marine adapters which you can find on our website, or just give us a call and we'll get it ordered. Don't hesitate to reach out to our experts regarding a shore power hookup – they have years of experience in the industry. Our sales reps are knowledgeable, friendly, and eager to help all our customers with any requests.
Ensuring you have a secure watertight connection is key to avoiding potential electrical shock hazards while on board your boat. You should never plug your boat into a regular outdoor extension cord with a standard straight-blade Edison connection, as they can easily pull apart and cause electrical current to leak into the surrounding water areas. All marine grade cables and shore power connections should have a twist-locking connection. If your shore power cables fall into the water while disconnected, you should immediately turn off the power from the circuit breaker, then spray down the contacts with water displacement spray, and dry off before turning the power back on. For this reason, it's so important to be sure to always use shore power cables with waterproof boots.
Connecting Through Shore Power
While Shore Power is very common at most marinas or docks, the dock power pedestal can often be in use by other boats which can leave you without power. In this scenario, ATI often recommends keeping a portable power distribution box on board that contains multiple shore power outlets to distribute power to your boat. You can find a variety of different spider boxes on our website with multiple shore power configurations. You can also view our Spider box buyer's guide on our site to help pick out the perfect portable distribution box for your application. To learn more about shore power connections and how you can stay powered at any dock or marina, watch our YouTube video below, and don't forget to subscribe to our YouTube channel to see more videos like it in the future!
For any additional temporary power or shore power questions, please contact our portable power experts today at (954)-644-3876 or send us an email at PPG@AtiElectrical.com.