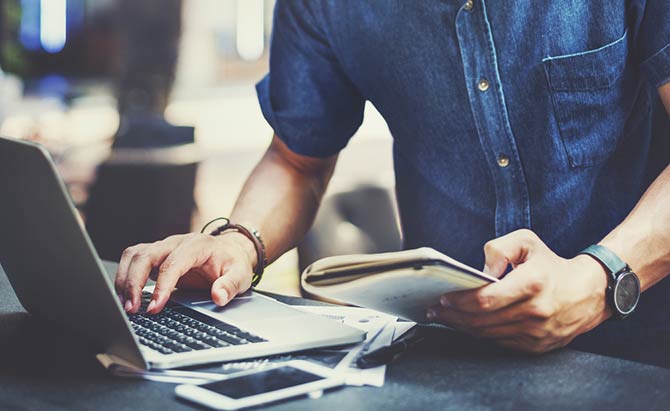 How to Choose the Right CRM System for Your Business
In our previous article, we explained how a CRM system could help you make better business decisions by utilizing customer data and automating important sales, marketing, and customer service functions.
Now let's take a look at some factors you'll need to consider to select the right CRM system for your company. Be sure to reach the end of this article, where you'll find a list of common CRM solutions and features that make each one unique.
#1 – Make it easy on your employees
Years ago, businesses struggled to get employees to adopt and use CRM software. Old computer-based systems were cumbersome and clunky. However, today's mobile-based solutions are easier to use, and companies leveraging mobile CRM solutions experience far higher adoption rates than those using older desktop-based solutions.
Offering mobile CRM access doesn't just increase adoption and ongoing use of the software, it also improves the productivity of the workforce. McKinsey reports a rise in sales productivity of around 15 percent. In addition, people who use mobile CRM systems tend to achieve better results.
Research by Innoppl Technologies shows:
65% of sales reps who have adopted mobile CRM systems have achieved their sales quotas, while only 22% of those using non-mobile systems have done the same.
Did you know? Almost half of people who access CRM software do so from smartphones and tablet devices. In fact, 81 percent of users now access CRM software from multiple devices, according to information from softwareadvice.com.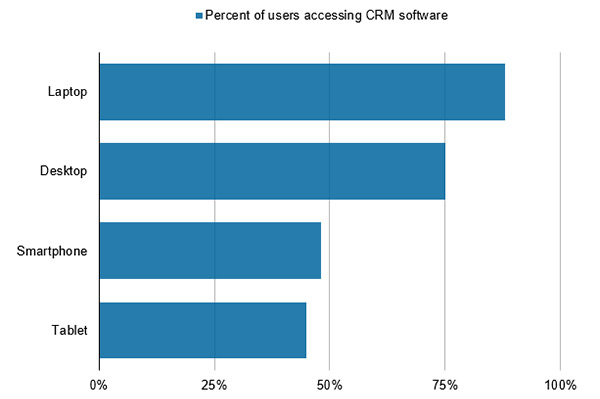 Our previous article on the value of CRM software for businesses revealed that the return on an investment in a CRM system is remarkably high. In order to optimize your ROI, you need to evaluate how many of the features offered by a CRM system your company will actually use relative to the price.
You should also take time to figure out what's included in the price of a system and what's not. Are you paying for training on the system, and is training an important feature for your company? It probably should be if you and your sales and customer service teams want to make the most of the system.
Tip: It's not enough to just train your employees on how to use a CRM system. You also need to explain how to use the information they receive.
Next, figure out if it will cost extra to customize the software to meet the needs of your company. Some software packages make customization easy to do yourself, while others charge for this service.
Finally, learn whether it will cost your company to integrate the CRM software into your existing systems and if you will need to purchase additional equipment to run it. This could significantly cut into your ROI and may not be a necessary expense.
Something to think about: A cut-rate CRM application that requires a big investment in equipment or customization is probably not a good value.
 #2 – Cloud-based or in-house solution?
There are pros and cons related to running your CRM solution off the cloud or in house on your own server. For many businesses, cloud-based CRM software gives them speedy access to a more powerful, sophisticated solution and eliminates the need to buy expensive equipment, including servers. In addition, it can be much faster to install and implement a cloud-based solution.
If your business is one that's concerned about handling a critical part of their business (such as customer relationship management) through a third party, then choosing an in-house solution may make more sense for your firm. This will likely require a larger IT staffing commitment and additional hardware costs.
If your business wants more control over their CRM solution but does not have the IT staff or hardware budget to implement one internally, you could hire a third-party systems integrator, solution provider, or consultant to host the program externally.
Tip: If you're concerned about trusting a cloud-based CRM solution, take some time to view the provider's service contracts, along with their security and service level agreements. Most are sophisticated enough to be approved by companies with tight service and security guidelines.
#3 – Can the CRM system grow with your business?
You'll want to ensure that your CRM system can grow with your business. After all, once you do your due diligence and decide on one, you won't want to buy a more robust system a few years down the road.
Caution: You should invest in a CRM system that can grow with your electronic company. But don't purchase one that's too complicated for your staff to use today in order to plan for future needs. If the customer management software is extremely complex, employees may shy away from using it, decreasing its value and your ROI. Find a balance with a system that's easy to use today and can grow with your firm over time.
#4 – Don't Forget Security
When it comes to working with customer data and information, make sure you keep security top of mind. Do some research on how each CRM software solution protects your company's — and your customers' — data and security. A good system should require complex passwords, generate an audit report, and allow you to assign different roles, responsibilities, and approval levels within your organization.
#5 – Vendor Strength and Reputation
Whether you opt for an on-demand or in-house solution, evaluate the backgrounds and reputations of the vendors you're considering. Like most software solutions, some CRM systems are offered by reputable companies that have been in business for a long time, and others by startups. And while many startups offer great solutions, you'll want to ensure they'll be in business to service and update your system over the long term.
Check out online publications and social networks that provide user reviews and independent analysis on CRM products. Many publish benchmarks and rankings based on their own or an external research firm's analysis of the software, support, service, and training. (CRM Software Review offers an at-a-glance guide.)
Also, review the case studies provided by most CRM vendors to see if they work with other companies in your industry. It's wise to consider the provider's experience in your specific vertical market. The less experience, the more system customization may be required, increasing the upfront cost of entry and ongoing maintenance.
Always take time to check references. Speak directly to existing clients about the vendor's — and the solution's — strengths and weaknesses. Learn how well the firm supports its customers. Also check to see if the vendor communicates effectively with customers, keeping them up to date on things like future developments and upgrades.
One more thing: make sure you feel fully comfortable with and confident about your account manager or the consultant assigned to you. If you have any doubts about the person's expertise, ability to communicate, or customer service skills, request another point of contact. You'll be paying a portion of this person's salary with your licensing fee, so you should feel good about the rep you're working with.
Tip: Once you have a list of CRM systems you're interested in, take advantage of vendors' trial offers and software evaluation programs. Get your employees to try out the different packages. Having them involved in the selection process makes it more likely they'll use the final solution.
Some CRM systems to consider:
As you can see below, there are countless CRM systems available today. You owe it to yourself and your company to work with your employees to find the system that's right for you.
The wrong system will likely be abandoned and never used by your employees, and you could end up looking for a replacement in short order. The right system could take your business to the next level.
Check out these CRM solutions appropriate for small to mid-size businesses:
Act! Essentials: This CRM solution's strength is how it combines contact management with email marketing. It can help you focus on where to spend your time and company resources by offering you intelligent, prioritized recommendations based on customer engagement level.
AllProWebTools: This software is unique in that it is simple but goes well beyond CRM. It's really a business software suite that also includes email, web, and e-commerce hosting, marketing, task management, and employee time management. If your company is looking for a single solution for all these issues, this could be the one for you.
Apptivo CRM: This software is part of Apptivo's suite of business solutions. It combines contact and lead management programs with project management and marketing software. Despite the fact that it allows a high level of customization, the dashboard is simple to use.
Avidian: If you're a fan of Microsoft Outlook, this could be the CRM solution for you. It integrates into Outlook and turns your email inbox into a full-featured, mobile-friendly CRM solution.
Base: This software markets itself on its ability to collect and present data to help businesses make informed sales decisions. It monitors the sales pipeline, sales activities, goals, and quotas and provides information and insights that can make your sales team more productive.
Bluenose: This CRM solution provides a 360-degree view of all your customer and prospect data. It offers features that could be appealing to larger, more sophisticated companies looking for an industrial-strength CRM system.
bpm' online CRM: If process is important to your business, then this could be the right solution for you. It combines sales, marketing, and help desk functions, so you can identify business process issues and fix them.
BuddyCRM: If you run a small business and are looking for a comprehensive CRM solution, this could be the answer for you. This system is designed to make small businesses seem as sophisticated as their bigger competitors.
Tip: It's not enough to just buy a CRM software package and install it on your company's computers, tablets, and smartphone devices. You actually need to have a plan for using it across your organization. A CRM system won't generate sales if you don't use it consistently and correctly.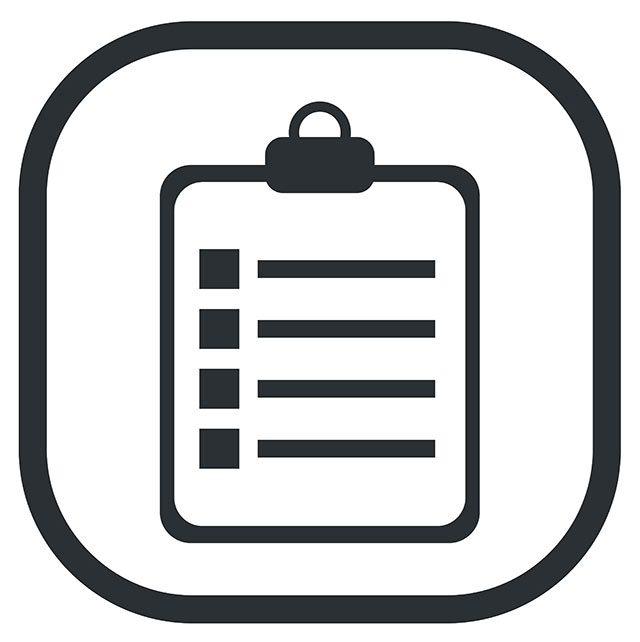 campaignerCRM: Some companies have shorter, simpler sales cycles, and others have longer, more complex ones. This award-winning software offers options for each. This could be a good scalable solution if your business has an aggressive growth plan.
Capsule: Are you tech or sales phobic? Then Capsule could be the CRM solution for you and your electronics business. It makes CRM simple by focusing on the six simple things most businesses care about: customer relationships, the sales pipeline, emails, contact histories, task management, and customization.
Commence: This software offers a unique blend of functionality and customizability that rivals large enterprise systems costing much more. It includes a suite of applications for sales, marketing, customer service, and project management. It's designed for fast deployment, making it easy to get started right away.
Contactually: This software focuses on sales and has been developed to help you close sales.
GoldMine: If running your CRM software on your own systems is important to you, then check out GoldMine as a solid option for businesses that want to do this. It also offers a cloud-based option. The company is known for its high level of customer support, so you can get help when you need it.
GreenRope: This CRM software tips the balance toward marketing automation, including functionality related to event marketing. This is designed to free you up so you can spend more time selling rather than marketing.
Hatchbuck: This is a relatively new all-in-one sales and marketing tool built for small businesses. It focuses on simplicity and ease of use. Plus, it's an affordable option.
Highrise: This CRM software promises to do exactly what businesses want, no more and no less. You can maintain and share contacts with your team, create tasks and set reminders, and keep track of emails, notes, and other forms of correspondence. If you're looking for a basic and easy-to-use system, this could be the one.
Case study: Driving sales for Jack's electrical contracting company is relatively easy. He finds that he can drum up business by contacting his regular clients by phone or email. He also reminds his contractors to do this when business is slow. Jack had an old CRM system that he stopped using because it was really complicated.
When he was at an electrical contractor's show, he was introduced to Highrise, a more basic solution that better met his needs. This less-complex CRM system gave him exactly what he required to execute his simple sales and marketing program and didn't leave him bogged down with functionality he didn't need.
The lesson: sometimes simpler is better.
Hubspot CRM: Hubspot is a popular inbound marketing and sales platform. The company's CRM system integrates with it, which can help you avoid repetitive sales and marketing tasks. In addition, the software can also automatically log and sync data from many sources, including your website, phone calls, emails, social media, and more.
Infusionsoft: This is a favorite CRM software solution for many small business owners. Why? Because it is a complete system that's easy to use, offered at a small-business-friendly price.
Insightly: The website for this solution says it all: it's a solid CRM software option for very small businesses. It is a simple, scalable solution that can grow with a business. It offers both basic and advanced options, so you can start with a free or affordable starter plan, then move up as your business grows.
iSEEit. If you focus primarily on complex business-to-business sales, this could be the right software for you. This system is all about driving sales, no matter how complicated the journey.
Method:CRM: If you and your company use QuickBooks, this is a software designed to integrate with your customer and financial data. This software links and syncs everything from contact information to invoices, purchase histories, and much more to give you a complete view of customers from initial contact to final invoicing.
Microsoft Dynamics CRM: As you might expect from a solution by Microsoft, this software takes CRM to a different level. It goes beyond typical sales information and uses social insights, business intelligence, and campaign management to help your business strengthen relationships with customers, improve marketing campaigns, and ultimately, boost sales. Cloud and on-premises versions are available, or you can combine the two. You can also integrate it with Office 365.
Case study: Margie's company provides electric cables, connectors and electronic equipment to nightclubs and concert venues. Her customers and prospects are social savvy and constantly online. She finds it a waste to market to them using email or other more old-school methods.
Marge decided to upgrade her CRM system to Microsoft Dynamics. She found that its social media and campaign management capabilities made it easy for her to automate social media campaigns that promoted her electronics business. It also helped lower her costs by finding smarter ways to target her posts.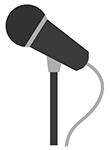 NetSuite CRM+: This software takes a leads-based approach to CRM management, following them through each step of the customer lifecycle. This could be a good solution if your firm is focused more on sales than marketing.
Nimble: If your business works with concert venues or other cutting-edge companies, Nimble could be right for you. It is a social media-focused CRM system that uses social listening to find contacts and prospects on sites like Twitter, Facebook, and Google+.
Nutshell: If you're looking for your first CRM system, this could be the solution that's right for you. It's simple and intuitive and integrates with other systems, including Google Apps.
Odoo: If an open-source solution is important to your firm, Odoo is a good option. Because it's open source, it lets you customize the software to your exact needs and add on apps as your business requires them. Apps support marketing, project management, e-commerce, website development, billing, accounting, and even human resources.
OnContact: This is a combined CRM and marketing automation solution that also includes a high-level customer service offering. If customer service is key to the success of your business, OnContact is worth checking out.
Pipedrive: This CRM system is designed for small businesses and is extremely simple and easy to use. There is also no training required, and if you need a system right away, setup takes less than a few minutes.
Tip: Some people avoid doing research on the CRM software package that's right for their business by buying a complex, comprehensive system. It can be a big mistake if you buy a system that's too complicated for your employees to use and forces them to dig through too much data to get the information they need. It could cause them to stop using the system.
PipelineDeals: This is a solid CRM system that comes with some nice extras. It can do things like send snapshots of your pipeline to your inbox every morning so you know exactly how your business is doing before you even open the software. Plans come with a high level of support, and you can expect to reach someone live when you need help.
Pipeliner: If you're a visual person, this is a great solution for you. You can see all your data in a clear layout. It uses simple charts, graphs, and other visuals to present information. If you don't like hunting for data, try out Pipeliner.
Tip: CRM software solutions use the term "automation" in different ways. Automation is the software's ability to remind sales and marketing representatives to follow up with customers at the right time. Make sure the software you choose has automation features that will add genuine value to your sales process.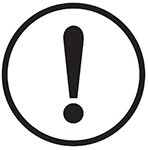 Podio: This solution from Citrix is bigger than just CRM. It aims to simplify many business processes, and its clear interface makes it easy to navigate and get things done.
Sage CRM: One of the more unique aspects of this solution is that in addition to contact and lead management, it offers targeted marketing, email marketing, and solid social media capabilities. It also comes with a built-in customer service portal.
Salesforce: Salesforce is the best-known CRM software, and it has much to offer to earn this distinction. It's a complete solution that's affordable and easy to use. It is also known for its top tier customer support.
Salesnet: A flexible solution that can be customized for most businesses, this software integrates easily with Microsoft Office. It integrates with Outlook to automatically sync contacts, meetings, and tasks; Excel to view and edit reports; and Word to merge data and attach files to the software.
SalesNexus: This software has a more "sales-y" website than most other options. But don't let that turn you off. If you depend on email marketing to generate business, this could be an option worth considering. Its lead-generation tool makes it easy to find leads in a wide range of categories, including industry, title, company revenue, location, social media profiles, and more. Plans comes with a certain number of leads and emails per month.
SAP Digital for Customer Engagement: This is an enterprise-level CRM solution that is available at a price point most businesses can afford. It includes most common CRM features, plus robust collaboration capabilities to help you and your team engage more effectively with customers. An intuitive wizard makes it easy to install and maintain the solution. It is scalable as your business grows. You simply add users to the license.
Snapforce: This is a powerful account management platform that makes it easy to manage clients on an account-by-account business. It also integrates simply into call centers and other software offered by the company.
Tip: When you and your team evaluate CRM solutions, take time to review the mobile app separate from the computer version of the software. These days, the app isn't just an add-on to the computer experience. It could actually be the primary way you and your employees interact with the system.
Sugar CRM: This solution goes beyond the basics and integrates sales, marketing, and employee tracking. The base plan comes with a robust set of features, such as sales automation and forecasting, lead management, call-center automation, reporting, unlimited customizations, and unlimited online support. Sugar CRM is available as cloud-based or on-premises software.
TeamWox: If your business is a larger or more complex one, this could be the solution for you, as it is more of an enterprise management system. It can help you manage teams, tasks, service desks, and other areas of your business. Teamwox offers no cloud-based version, however, and once you have more than five users on the system, it can get expensive.
Vtiger: This is a powerful CRM solution that includes email marketing, project management, calendar and task management, reporting, document management, and additional features. It integrates with other functions to help you run your electronics business more effectively and also lets customers access their accounts and submit help tickets.
Workbooks: If your business is focused on electronic parts fulfillment or if you're dissatisfied with your current CRM solution, Workbooks might be an option for your business. It streamlines the sales and fulfillment process and has some of the highest customer satisfaction ratings of almost any CRM software package.
Zoho CRM: If your firm is a small one and you have little or no budget for a CRM system, Zoho could be perfect for you. It's packed with features and lets you add up to ten users at no cost. And if your company grows above that level, reasonably priced licenses are available.