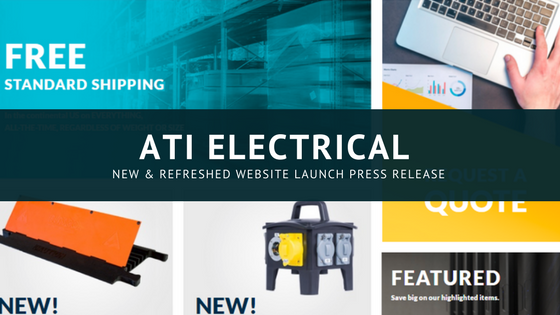 ATI Electrical Launches a New & Refreshed Website
Las Vegas, Nevada: This week ATI Electrical a full line electrical distributor, specializing in switchgear & controls for both industrial and commercial markets launched a new and refreshed website, the updated site is easier for users to navigate and easy to view on both desktops and mobile.
"Our goal is to ensure that the experience you have while visiting the ATI Electrical site is simple and enjoyable.  We want your service experience with our company from start to finish to be one that you remember and want to revisit." said President & CEO Greg Knowles, "we hope to have exceeded your expectations and welcome any feedback you may have."
The site redesign included changes in the following areas:
Multiple visible touch-points for customers to contact ATI Electrical such as clear contact information, chat box, quote form and more.
Clear Navigation: the site boasts easy-to-understand pages and clear call to action.
A responsive mobile ready site that allows customer to shop on the device of their choice.
Better site speed and pages that load faster to allow customers to complete their browsing with ease
Beautiful design and clear images.
To celebrate the new site, the ATI Electrical team was giving the first 10 customers who place an order over $250 on their site a $50 Visa gift card to shop on the ATI site or at any retail store of their choice 'We don't want to limit you!' said Chris Walczak, Engineering Manager at ATI Electrical.  The site met this target in a matter of hours.
About ATI Electrical – Autonomy Technology Inc is an Electrical Distributor located in Las Vegas, Nevada. Founded in 2004 , ATI Electrical has served over 1 million customers in temporary & critical power, entertainment portable power and heavy industrial electrical – to include: low & medium voltage c projects, petro-chemical, mining, oil & gas and wastewater treatment…to name a few. A member of NAED (National Association of Electrical Distributors) and AD (Affiliated Distributors) ATI Electrical is geared for exponential growth in 2018.