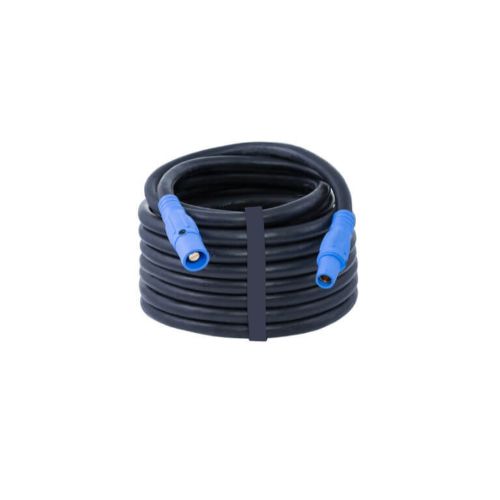 * All pictures shown are for illustration purposes only.
Actual product may vary based on spec selection.
4/0 AWG, 400 Amp, Type W Generator Cable, CAM Extension
Categories:
Our Type W CAM Lock extensions consist of 4/0 cables rated for 400 Amps that are designed for heavy-duty commercial, residential, and industrial power applications that require temporary or permanent power. Cable Assemblies are often used in conjunction with portable generators to provide portable, off-grid power when you need it most. We offer a broad selection of premium power cables to match nearly any temporary power application.
For custom configurations not found on this page, please contact our portable power experts at (800)-597-9311 or email the portable power group at PPG@ATIelectrical.com to receive a formal quote in a matter of minutes.
Product Usability:
We believe that our no-fuss and quick connection component through male to female Series 16 CAM locks is what makes these cables so versatile. The heavily-insulated design of our cables makes them perfect for both indoor and outdoor applications. Our team tests every last cable before it leaves our facility to ensure each cable arrives in pristine, working condition.
All cable assemblies exceeding 25' come bound with double D cable straps allowing you to tie up your cables neatly after each use. We offer color-coordinated CAMS for all voltage configurations and phase taping is available upon customer request.
Applications:
Type-W Generator Cables are manufactured with an extremely durable, rugged exterior jacket, making them an easy choice for a variety of different portable power applications. This includes generator connections, entertainment settings, construction, marine, industrial, and military environments.
These camlock cables are manufactured to make the customer's experience safe, quick, and as simple as possible. They are resistant against heat, flames, chemicals/acids, moisture, oil, and harsh UV conditions.
Click here to watch our test video.
Key Features:
Manufactured in the USA

NEMA 3R while connected

All Components are UL/CSA Listed

RoHS Approved components

 

Hard-use Chlorinated Polyethylene (CPE) rubber single-pass thermoset jacket

CPE provides greater abrasion and heat resistance over thermoplastic PPE/TPE jackets

EPR rubber insulation
Cable Construction:
Single conductor cable containing 2000-2200 individual copper strands

90° C 2000V rated hard-usage Chlorinated Polyethylene (CPE) rubber insulation

Thermoset abrasion-resistant jacket
Technical Data:
Voltage: 2000V

AWG: 4/0

Conductors: 1 CDR
Camlock Specifications:
Male & Female Inline Camlock Connector

Max Amperage: 400A

Max Voltage: 600V AC/DC

Camlock Housing: Rubber

Contact Material: Brass
Available Lengths: 25', 50', 75', 100'
Available Colors: Black, Red, Blue, Brown, Orange, Yellow, White, Green
Custom solutions are available - Email our portable power experts at PPG@ATIelectrical.com or call us directly at (800)-597-9311.
Please Note: Power Assemblies products are built to order. Please check lead time under the specification tab to avoid any delays. Items will ship by your selected shipping method upon completion. Customers have the option to add an expedited fee of 25% if needed before the lead time period. This fee will not be charged online as we need prior confirmation from the production facility.
WARNING: This product can expose you to chemicals that are known to the State of California to cause cancer and birth defects or other reproductive harm. For more information go to www.P65Warnings.ca.gov