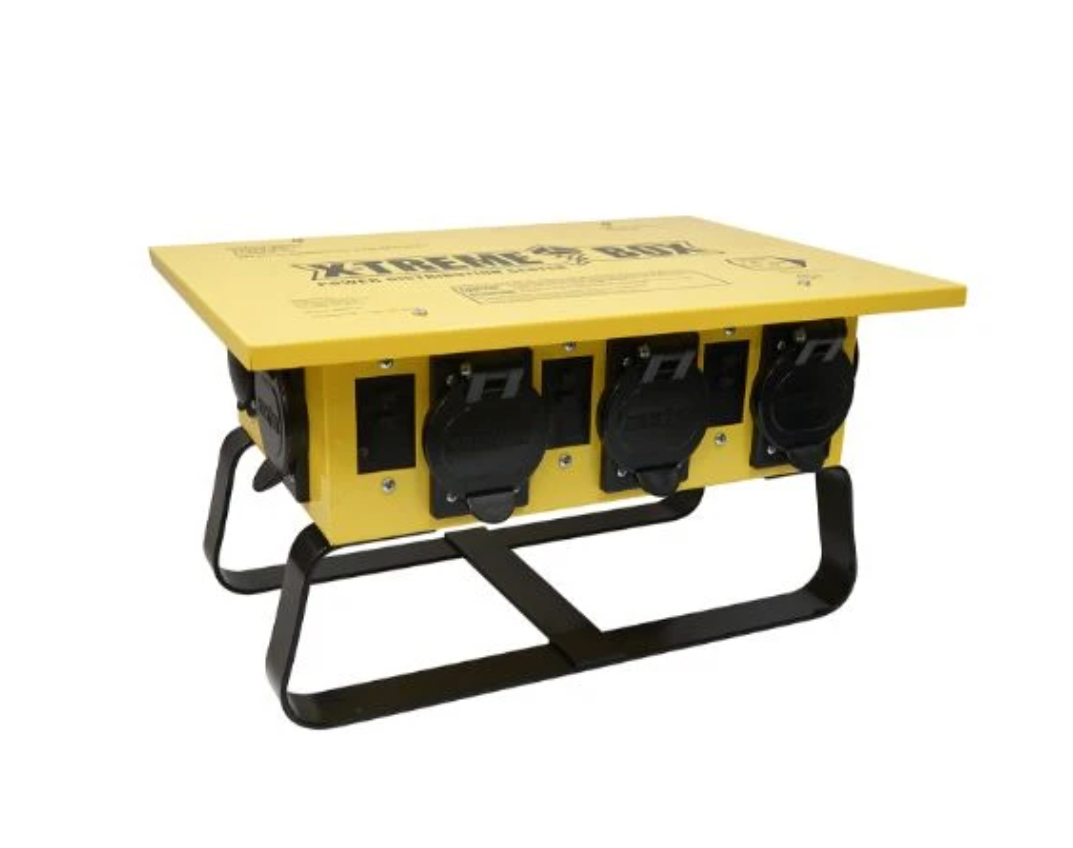 What Is an Electrical Spider Box? What Are the Benefits of Using One?
Electrical spider boxes are portable power distribution centers that are designed to be an easy and safe way to distribute electrical power using a 250 VAC, single-phase power source. Wherever temporary power is required, spider boxes are the safest, most convenient and economical way to provide electrical power to things like portable power tools and temporary lighting systems.
Although spider boxes are considered one of the safest types of temporary power distribution, you will need to know how to properly implement them. 
All spider boxes should use grounded fault circuitry interrupters (GFCI) ahead of the receptacles and connectors to protect yourself and the other workers on site. 
GFCIs ensure that no one becomes injured if electrical cords are damaged or the system as a whole is compromised. 
What Are the Benefits of Using a Spider Box?
Here we will explain all the different benefits of using spider boxes (of which there are many).
Ease of use - Spider boxes are quick and easy to set up. They provide power quickly when it is needed most without complicated instructions or wiring

Transportability - Spider boxes can be easily transported from one location to another without the use of heavy equipment.

Efficiency - Because they can be quickly set up, spider boxes help companies complete projects faster and on time. 

Scalability - heavy duty spider boxes can handle an increased electrical load

Safety - As discussed above, GFCI installation ensures that no one becomes injured when utilizing the spider box for temporary power.
Click Here to View Our Spider Box Buyer's Guide
Applications for Spider Boxes
Spider boxes are known for their rugged durability and dependability. Even in the most challenging environments, spider boxes are able to provide power. This is a big reason why they are utilized for a wide-range of applications. 
Disaster Relief
If a large storm, wildfire or other disaster hits a certain area, first responders and restoration firms need to act fast. There is no guarantee that power will be available when they get to the affected area when they need it most. This is where the spider box comes in. Because it is portable, rugged and safe to use in a variety of situations, along with the generator, can offer dependable power in emergency situations.
For example, firms like FEMA perform electrical equipment installation to address emergency power outages. 
Areas with Limited Access to Power
Certain projects require firms and companies to work in areas that have limited access to power like roadwork or development projects in rural areas. Unlike the disaster relief application above, these areas will not have access to power no matter what the conditions, and spider boxes can help ensure that workers have the light they need to work safely and efficiently.
Events and Entertainment
This application may not be life or death but spider boxes definitely come in handy when extra power and lighting is needed for live events. 
Whether it is finishing a stage build at night before a big show or powering additional spotlights that showcase the performer, spider boxes are extremely useful when it comes to pulling off a great show!
Construction
In a perfect world, all construction projects would be completed on time with plenty of light. Unfortunately, that is not the world we live in. In order to meet deadlines, not interrupt traffic flow and a variety of other factors, many construction projects need to be carried out with a limited amount of light. Working at night or in low-light conditions is extremely dangerous when dealing with heavy machinery and power tools so it is best to have temporary power sources like a spider box ready for when these situations occur. 
In the same vein, the mining industry almost exclusively operates in low-light conditions. Mining is risky to begin with but if you don't have dependable spider boxes on your side, you put workers at an even higher risk.
ATI Electrical Supply offers a variety of spider boxes from different brands. You can check out our buyer's guide for more information on spider boxes. If you need some additional help deciding which one is best suited for your needs, we are more than happy to oblige.
Call us now at (800) 597-9311 or e-mail our portable power group at ppg@atielectrical.com for any questions about which product is right for you