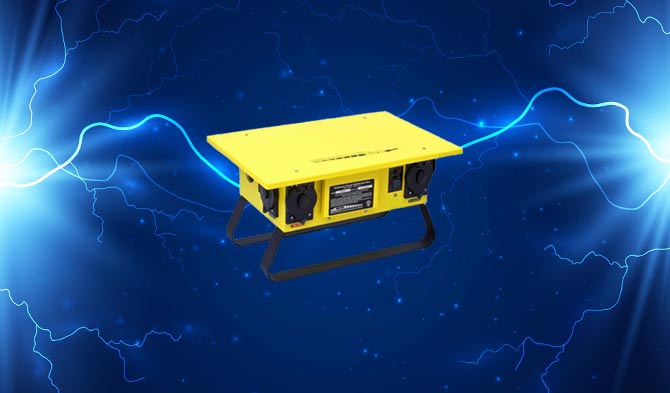 Spider Boxes: Temporary Power When & Where You Need It
Does your firm do work in hard-to-reach locations that don't have electrical power? Do you require a safe source of power for outdoor locations or temporary situations? A spider box or spider box system may be the perfect option for you.
Spider boxes (also known as temporary power supplies) are economical portable power distributors that use a 250 VAC, single-phase power source.
Contractors, miners, and firms that do electrical equipment installations often turn to spider boxes because they're one of the safest, most convenient and economical ways to provide electricity to portable power tools, temporary lighting systems, hard-to-reach locations, and other electrical equipment.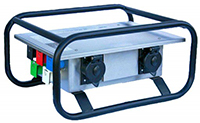 A typical spider box can cost between $150 and $1,500, depending on how heavy duty it is. Be aware that you'll need to purchase the correct power cables, adapters, and accessories to supply power to a spider box unit or distribute power among units; these add-ons could cost several hundred dollars. Ultimately, the total cost is relatively inexpensive compared to other temporary power options.
A reputable electrical supply vendor can recommend everything you'll need to use a single spider box or a series of them correctly.
TIP: Always follow manufacturer's advice when using a spider box, and have your supplier answer any questions. This scenario from OSHA Oregon shows what could happen if you connect a spider box incorrectly.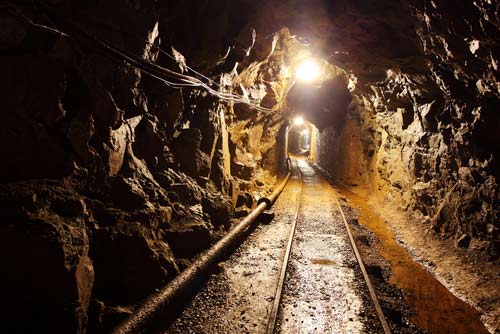 Case Study: Mack runs a large mining operation in Nevada. He's able to get an adequate supply of electrical power to most areas of his mines, but it's hard to get power to new sections when he first opens them. Tight space and limited accessibility make this a big challenge.
He did some research on spider boxes and started using them in his business. Their size, portability, and durable construction make it easy to power new areas of the mine right away, and serve operations until a more permanent solution can be installed.
The cost of purchasing the spider boxes has been easily offset over time, since he's able to quickly open new sections of the mine and earn revenue from them.
Selecting the right spider box setup
Don't make the mistake of simply buying a spider box, or several, without doing your homework. Instead, think about your situation and electrical power requirements. The best rule of thumb is to start at the end (what you need to supply power to and where) and work your way back to the initial source of power. Then design the spider box setup that will best meet your needs.
Let's say you need power for a simple construction site with a few workers using power tools. You'd likely need a smaller, more limited setup. If it's a larger construction site with many workers and large power tools, a more extensive, heavy-duty system would be required. No matter the industry you work in, you can tailor a spider box setup to your unique situation.
Another thing: you may not be the only vendor needing temporary power. Find out ahead of time whether it would make sense to coordinate your temporary power needs with other vendors or suppliers on the job site.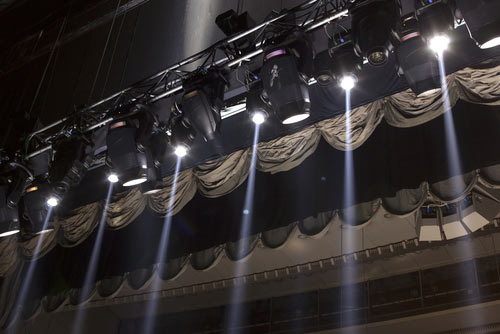 Case Study: Melissa's business supplies electronic equipment to concert halls and other music venues. She finds that having an adequate supply of power for different setups is a consistent problem. This is a particularly big issue when it comes to outdoor concert locations or temporary, one-time venues.
Melissa consulted a professional electrical equipment supplier. They recommended a spider box system with flexible components that could be configured for different venues and locations. All the equipment is rated for heavy-duty outdoor use, so it can be used indoors and out.
The purchase of the spider boxes has helped Melissa expand her business because she can now accommodate a broader range of clients.
Spider box safety
Remember, spider boxes are designed to be rugged, durable, and dependable in even the most challenging situations and outdoor environments. If you follow the manufacturer's instructions, you'll feel more secure knowing you're doing what you can to keep your team safe.
Make sure you review all OSHA regulations and other applicable standards (such as Subpart K or NFPA 70E). If you're working on a construction site, review the NSC requirements and recommendations that apply to the project. Always assume that any temporary electrical power source could be used by qualified electrical workers, along with people who have limited electrical knowledge and experience. It's a wise move to plan out your system with this in mind.
When you use a spider box or temporary power system, install grounded fault circuitry interrupters (GFCI) to protect workers. This will help ensure that no one becomes injured should electrical cords become damaged or the system compromised.
Even if all the components of a temporary spider system are rated for outdoor use, it's a good idea to protect them from the elements. Tents, canopies, tarps, and covers should help.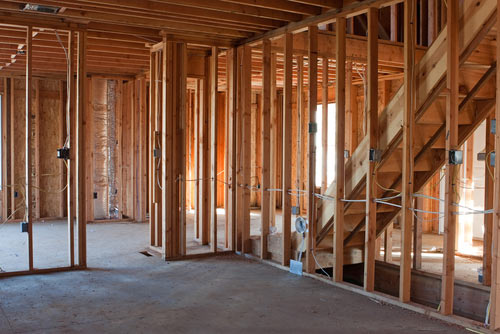 Case Study: Jack runs a fast-paced electrical contracting business. His team frequently works at new home sites, each with unique electrical power needs. In addition, he's never sure how many jobs his firm will be working on at once.
Jack contacted a portable electrical power supplier to discuss his challenging situation. Thankfully, his problem was not unfamiliar to the supplier. They asked him a series of questions, and recommended a scalable solution that met his needs perfectly. This will make it easier for Jack to expand his business, since he can easily add new components to his system as needed.
He trained his staff on how to use the system properly, giving him piece of mind that they can perform their duties safely.
Getting started
If you're interested in purchasing a new spider box system, sit down with your team and discuss your electrical needs.
It's smart to determine:
The scope (distance) the system will need to cover, along with the load your system will be required to handle.
Whether the system you purchase will be a finite one or if it should be scalable.
Whether your equipment will be used at one location or many, and if the different ones have different requirements.
Once you have this information, you should contact a reputable electrical supplier that specializes in portable spider box electrical systems. They can provide the advice you need to purchase a system that's right for your business.