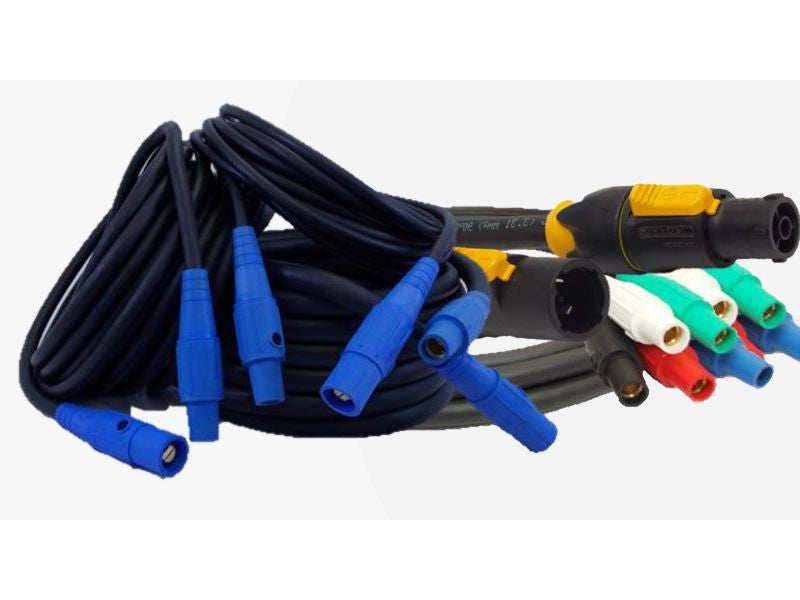 Portable power cable assemblies what three important factors to consider when deciding to build or repair your own.
Purchase and repair costs are some of the most common considerations for a company that makes their living by renting portable power cable assemblies. Examples of these types of assemblies include type W cable with camlock connectors for generator applications, and type SC wire with twistlock connectors commonly used by electrical contractors that connect to a construction spider box. Since companies already have a significant investment in human resources in the form of technicians and warehouse personnel, they are tempted to use these people for jobs that they are either not qualified for or don't have the proper tools and training to perform. Before deciding to build portable power cable assemblies or repair used ones yourself, consider these three factors.
Do you have the right certifications?
Companies that build cable assemblies which carry voltage less than 600V should have a CSA or UL listing that is applicable to the entire assembled product. Electrical cable assemblies that are 600V and below are covered by CSA listing #'s 22.2 and 182.1-3. This listing is accepted in both Canada and the United States. The individual products that make up a cable assembly carry their own UL and CSA listings, however those individual components do not make the finished assembly CSA or UL listed. For example, stage cable and 4/0 type w carry a listing of UL1650 and UL1680 respectively. This listing does not apply to a complete camlock cable assembly containing type W or SC cable and camlock connectors as a complete assembly. Although some applications do not require a CSA or UL listed product, not having this listing limits the potential use of the assembly. These certifications become even more important when dealing with cable assemblies that carry voltages over 2000V, which in the electrical industry is referred to as medium voltage. Medium voltage assemblies, which typically contain Type SH cable, require their own testing certifications because of the obvious potential danger of a bad connection. These certifications ensure that the electrical connections are made properly, and that the assembly is tested to the appropriate voltage levels. At a minimum, medium voltage cable assemblies should be certified by using a hi-pot tester to test the final assembled product.
Do you have the right tools, materials, and processes?
Adding camlock or twist-lock connectors to cables requires specific tools and training to create a safe and proper installation. Companies that have the certifications listed previously have created the processes, invested in the tooling, and trained their personnel on how to safely and effectively install the connectors.
Proper tooling is required for safety and efficiency. Tools such as pocket knives can be used to strip cable, however, they run the risk of injury and cutting the conductors. Tools that are designed for specific tasks such as crimping, stripping the jacket and conductor off of the cable, and making the terminations greatly decrease the risk of injury and speed up the assembly time. These tools often take a significant financial investment that companies whose primary function is the assembly of electrical camlock or twist-lock connectors on cable are willing to make.
Portable power cable assemblies often require specific materials. Examples are heat shrink, medium voltage (above 2000V) electrical tape and solder. The use of improper materials can have tragic consequences. Here is an example of how costly it can be to use the wrong materials. A company whose main business is installing residential products, such as load centers and wall outlets, decided to create its own medium voltage terminations (15,000V rated) for a project. Since they were set up for installation of cable that can be found in a typical home, which is 240V or less, they did not have the proper material to insulate the connectors. Instead, they used what they had on hand, which was electrical tape rated at a maximum voltage of 600V. When the cables were installed and energized with 15,000 volts, the connections immediately failed, a temperature of 35,000 degrees Fahrenheit was reached in milliseconds and the cable caught fire. In addition, the equipment the assembly was connected to caught fire, causing tens of thousands of dollars in damage. Luckily, no one was seriously injured or killed, but the damage to the cable assemblies, equipment, and the contractors' reputation was substantial.
The decision to build or repair electrical portable power cable assemblies by a rental company is often not planned. The cable comes back from a job, they are needed on a new job and it is obvious some repairs need to be made to the connectors. Why not just make the repairs and send them on the road? Proper electrical terminations require training and processes, and these take time. Since the decision to repair or build assemblies was not planned, there is no time to develop procedures and training. Good companies that are in the business of building and repairing type w, stage cable or type SH electrical cable assemblies have taken the time to develop the procedures and train their people, resulting in higher quality and safer assembly.
Doing it yourself has risks
It is tempting for a company in the business of renting portable power cable assemblies to assemble or repair the connectors themselves. This is especially true during slow times, or if additional cable assemblies are needed quickly. Rather than laying people off, some companies choose to put them to work building or repairing cable assemblies. People who are asked to do a job without the proper tools and training run the risk of injury. Workplace injuries cause financial hardships for both the employee and the employer, not to mention pain and suffering. A safe workplace increases moral, and asking employees to perform physical labor doing a job they are not trained for greatly decreases workplace safety. According to a 2005 National Safety Council Study, a workplace related injury can cost up to $38,000 including lost productivity, wages and medical expenses.
Although it may be tempting to do your cable assemblies in house, especially during slow times, it might not be the right decision. Consider these three factors, with special attention to safety and quality. Sometimes things are better left to well trained companies such as the manufacturer Power Assemblies with the right tooling, materials, certifications and procedures.