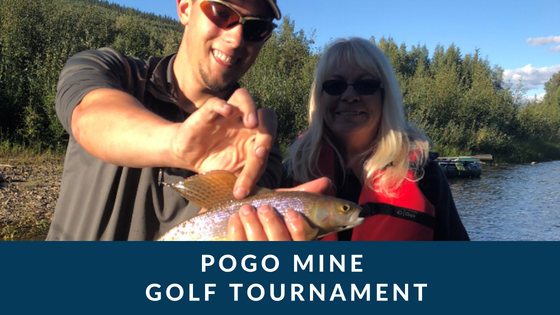 Pogo Mine Golf Tournament
The Tournament
This past month I had the pleasure of playing in the annual POGO Mine golf tournament for the vendors and employees of Pogo mine. Pogo mine is a gold mine in Alaska that had its first gold pour in 2006. This is the fourth year in a row our sales rep and I played in the tournament. The manager of the mine, Chris Kennedy, says in his opening speech before the tournament that "if you are here to play a serious round of golf, you're at the wrong tournament"
ATI Electrical and Pogo
Pogo has been a great customer to ATI since it opened in 2006, and we look forward to the annual golf tournament. The day before the tournament, we traditionally visit the mine. The trip to the mine takes a total of 2 -3 hours, depending on driving conditions. In the summer time, it is a beautiful drive with wildlife such as moose, caribou, eagles, foxes, and on this latest trip – a huge brown bear looking for fish in a river. In the winter, it can be a treacherous drive through the 50 miles of winding narrow snow covered road to the mine. The mine site consists of man camps that house the mine employees in dorms. The engineers, electricians and IT personnel responsible for keeping the camp heated, powered and with effective communications are incredible at adapting to circumstances and using their field knowledge to keep things running. Recently, the mine enhanced it's Wi-Fi system through a series of radios since running fiber optic cable over miles of rough terrain would be a huge financial burden. The shop where the IT manager worked would have impressed MacGyver!
Alaska has some of the best fly fishing in the world, so we took advantage of the long daylight hours in the summer to take some of the mine employees on a guided trip down the Chatanika River to fish for Grayling. Grayling is a beautiful yet relatively small fish with similar markings to a trout, but has this big sail fin on its back. They are hard fighters that are caught on dry flies that drift with the current. Being the environmentally conscious company that ATI is, we released all the fish unharmed.
Developing mutually beneficial relationship with our customers makes the electrical distribution industry a fun place to have a career. When you couple the great business opportunities with fun like we had at the annual Pogo cup, I realize why so many people who work in the industry are reluctant to change careers. We are already looking forward to next years tournament.