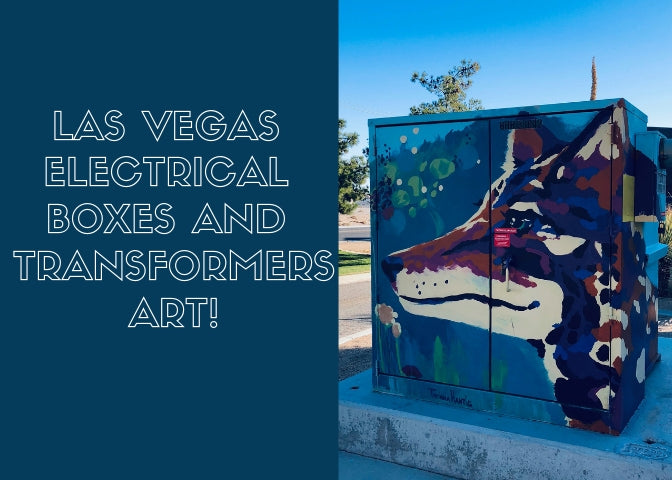 Las Vegas Livens up Electrical Boxes and Transformers
Electrical distribution equipment which includes Electrical Boxes, transformers, switchboards and panel boards are used to power homes, businesses, hotels and casinos and industrial facilities throughout the Las Vegas Valley. The enclosures for these typically come in very bland colors to not draw attention to them, or to blend them into the surrounding environment. Because of their neutral colors and subdued profiles, you might not notice them. This is usually done for safety reasons, as the components in the housings are very dangerous if touched by people or animals although the enclosures are built so it would be difficult to access these components.
Las Vegas companies such as the Las Vegas Valley Water District, Nevada Energy Company and Southwest Gas took the bold step of brightening up these normally demure electrical boxes by contracting local artists to paint them. One transformer that is owned by the Las Vegas Valley Water District was painted with a rather ferocious looking Pitbull on the front. Another low-profile residential transformer was painted with hexagons in different vibrant colors. My personal favorite is a transformer that is the property of Nevada Energy that has been painted with the portrait of a wolf, in amazingly bright colors.
The talent and imagination of these artists is incredible, and it is refreshing to see their work on electrical equipment that are normally so grey and uninteresting. Electrical distributors like ATI Electrical Supply, aren't flashy and don't normally get headlines. When people ask me what I do for a living, I preface my response with "have you had enough sleep and do you want some coffee first", knowing it is difficult to make buying and selling electrical products captivating. To those of us who have made a career out of electrical distribution, our view of the industry is much like those electrical boxes painted with vibrant colors. Where other people see an industry in bland shades of green and grey, we see it in all the vibrant colors of the beautifully painted electrical boxes in Las Vegas.