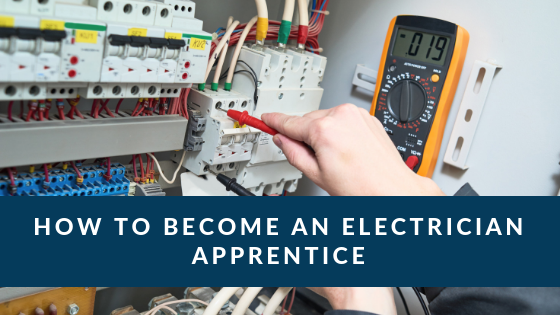 How to Become an Electrician Apprentice
When a student finishes secondary education studies, they have an opportunity to become an Electrician Apprentice in-order to gain the work experience.  Students are often faced with the dilemma of not having any work experience to be qualified for the job openings in their desired work industry field. One solution to eliminate this dilemma is an apprenticeship, in our case an Electrician Apprenticeship. An Apprentice is defined as someone learning a particular trade from an expert in the field for a low wage and fixed period of time.
As an electrician apprentice, you'll learn everything there is to know and have real life on-hands experience of what your job entails. You'll learn to install, maintain, & repair electrical systems in various business types and homes. While working as an apprentice you'll develop the knowledge to read and better understand a variety of blueprints & diagrams. You'll learn which tools and materials you need to take on each task. How to properly choose protective gear, like gloves and safety goggles. When and where to place cable covers.  You'll learn in-depth expert knowledge about the different techniques of installation and troubleshooting.
Are you ready to be an apprentice?
That's an important question you have to ask yourself before you pursue an apprenticeship. There's many that join apprenticeships and then find out later on that they aren't fit for the job duties. When you are an apprentice, you are actively engaged in on-the-job-training. You are a novice level electrician. In the field of electrician, you must be comfortable using tools, climbing ladders, scaling structures, and working within very small or tight spaces. Also take into consideration, the weather elements in the work area and be able to quickly prepare accordingly. It is a necessity that you are dependable and reliable to your employer. Are you getting to work on time? Are you working well as a team player? Do you work well by yourself?  How open are you to change?
Now that you have a little bit of the background knowledge on the duties of an Electrician apprentice, let's discuss how to actually become an apprentice. In order to become an electrician apprentice, you must enroll in an apprenticeship program. Three of the most familiar electrical apprenticeships are IBEW/NECA, IEC, and ABC. The International Brotherhood of Electrical Workers (IBEW) is a union that represents 750,000 active electricians and retirees. IBEW is partnered with the National Electrical Contractors Association (NECA). The Independent Electrical Contractors (IEC) is a non-union national trade association for merit shop electrical and systems contractors. "Merit shop" means the owner bases pay on one's "merit." IEC has 3,000-member companies in 53 chapters throughout the United States. The Associated Builders and Contractors (ABC) national construction trade association is a non-union with 70 chapters and 21,000 members nationwide.
What criteria must you typically meet during the electrician application process?
You must be at least 18 years old of age.
A high school diploma, GED, or higher is required. (Must provide transcripts)
Be in good physical condition.
Must have dependable transportation.
Electrician apprenticeships typically take place for 2 – 5 years. Apprentices receive 700 – 900 hours of classroom instruction during their program. Instructors are retired electricians, working electricians, or specialized trade instructors. On-the-job exercises that mimic real world experience are used in the classroom. Every apprenticeship is unique in its own way. They all have their own set of guidelines and schedules. The apprenticeship you choose to pursue will provide the minimum number of academic hours required by your local state licensing agency to obtain your license to work as an electrician.
Why should you become an Electrician Apprentice? Due to tradesmen reaching the age of retirement and resigning before they can be replaced, apprentices are in high demand. In areas with major projects, the local contractors struggle to find skilled help. As an electrician apprentice you will learn an abundance of life and problem-solving skills. A majority of electricians end up starting their own companies down the line so there's the perk of also becoming a business owner. Even if you're just looking for a career that allows you to really work with your hands, an electrician apprenticeship is a great beneficial place to start.