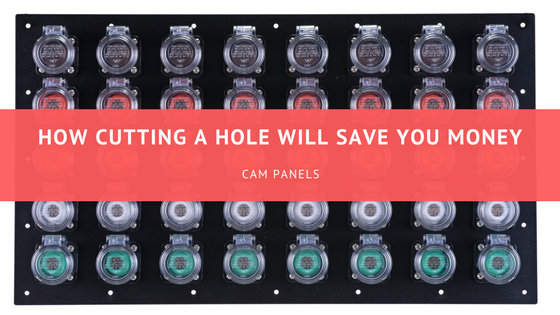 How Cutting One Hole Using Cam Panels Will Save You Money
Labor costs are some of the biggest expenses for anyone doing electrical installations. According to several employment websites, electrical installers and electricians have an average pay rate of $30 an hour. Time savings activities can often determine whether a project is profitable or not.  Several manufacturers have capitalized on the need to reduce labor costs by creating innovative products such as cam panels that significantly reduce labor while minimally raising the cost of materials.
Cut one hole instead of 10 – or 32!
One of the more practical but innovative products was created by Power Assemblies, and it is called the camlock panel, or cam panel. The cam panels are simple in design but can save an average of 35 minutes per installation for a 10 hole panel, and up to 120 minutes for a 32 hole panel. The material consists of a 1/8 steel plate that is coated to prevent scratches and rust. Holes are then cut depending on the number of camlock connectors needed, using a water jet to make them smooth. The connectors are added, and now only one hole is needed to add the panel to the side of a generator or electrical distribution box. If a cam panel is constructed to hold up to 32 individual camlock connectors, imagine only cutting one hole instead of 32 individual holes! The labor savings is considerable, and the look of one neatly mounted panel versus dozens of individual holes adds value to the equipment they are installed on.
Connector Specifications and Configurations
Camlock connectors come in a wide variety of configurations, and the best way to be sure you are getting the right connection for the application is to break the configuration down to color coding, wire connection type and angle of the camlock.
Color coding
The National Electric Code, or NEC has certain color codes that signify the phase and voltage for wire and connectors for common voltage configurations that include 120/240V, 120/208V, 480/277V and 600V in the US. Canada has slightly different voltages and color coding. The color codes and corresponding voltages are:
United States color codes
Black, Red, White (neutral) – 120/240 single phase
Black, Red, Blue, White (neutral) and Green (ground) – 120/208V 3 – phase
Black, Orange, Blue, and White (neutral), Green (ground) – 120/240 3- phase
Brown, Orange, Yellow, or Gray or Purple, White (neutral), Green (green) – 277/480V 3- phase
Canadian color codes
The most typical color code for Canada is Brown, Orange, Yellow, White (neutral) and Green (ground), for 480/277V or 600V power. It is also common in Canada to use Red, Black, Blue, White (neutral), Green (ground) as well. Check with your electrical inspector or local code enforcement officer to be sure what they will accept.
Wire Connection Type
Wire connections can generally be classified as direct connection to the cam or via a lug connection. Direct connection involves stripping the cable back to the conductor and fastening the cable to the connector's brass fitting using double set screws. Lugged connections involve installing a compression or chair lug on the cable and fastening the lug to a threaded post on the back of the camlock connector.
Angle of the connector
The connectors come in two different angle configurations – 45 degree or 90 degree. 45 degree angled connectors have the camlock point downward in a 45 degree angle to alleviate the strain on the cable. This configuration is most often used when mounting a cam panel to the side of an enclosure. A 90 degree, also know as a straight connector is most often used when mounting the panel on the bottom of an enclosure.
A Variety of Uses
Cam panels can be used anywhere multiple camlock lock connections are needed. The original purpose of the camlock connector, which was developed by Cooper Crouse Hinds, was for non-electricians to safely and simply connect temporary power from a generator or other temporary power supply to an electrical load. The cam panel integrates these connectors to any piece electrical equipment that has enough room to integrate the cam panel. The most widely used applications include a generator connection box (aka a generator docking station), a safety switch by manufacturers like Square D, ABB, or Siemens, low voltage transformers and automatic transfer switches. Camlock panels have even been used for the secondary side of portable unit substations! Cooper Crouse Hinds developed a version of the cam panel they called the Posi-Lock. The Posi-Lock takes a standard series 16 camlock connector and adds a shroud that prevents the user from connecting cable in the wrong order of phases or crossing phases. Electrical equipment, especially motors, require the phases in the equipment to match the phases from the source. The Posi-Lock panel prevents crossing phases as well as prevents current carrying cables, or "hot" cables from being connected to the neutral or ground. Connecting a hot phase to the neutral or ground can be catastrophic for equipment.
More information on the camlock panel can be here or by asking one of ATI's knowledgeable sales people though our chat or via e-mail at info@atielectrical.com.