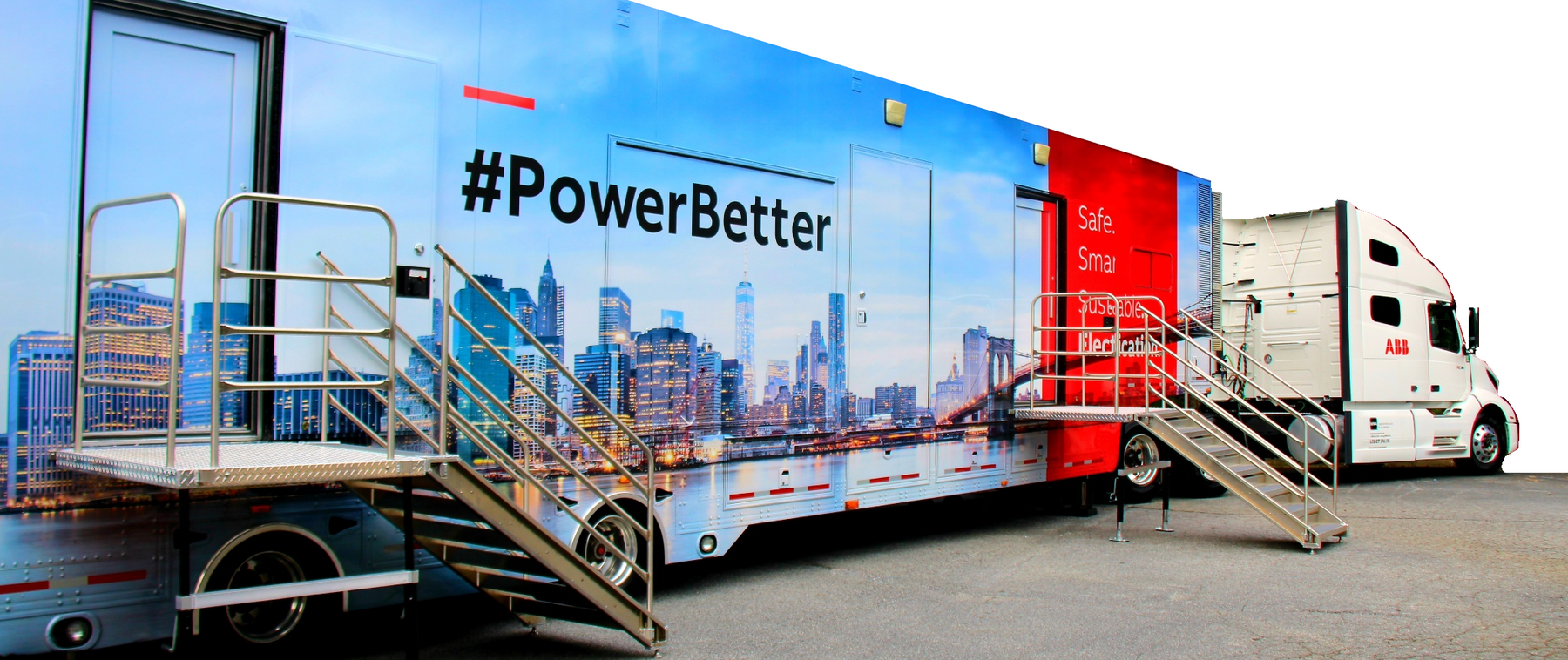 ATI Attends the ABB Power Better Roadshow in Miami
The #PowerBetter Roadshow event by ABB is an interactive experience that allows for a hands-on approach to demonstrate some of ABB's most innovative products through a completely portable and captivating experience. This event showcased a complete product demonstration that allows you to observe, touch, and ask all the questions you may have in a safe and controlled environment. ATI jumped at the chance to attend this event to further expand our understanding and expertise surrounding ABB products and to continue to supply our customers with the solutions they need for any job. No matter what it is that you need, ATI will go above and beyond to supply you with the material to get the job done at a great price.
ABB designed a 53' expandable trailer on wheels containing more than 550 square feet of floor space for the walk-through training with one of their product experts. This show came to Miami last month on October 27th and has been traveling through multiple cities and states throughout the country since September 1st. Visit ABB's Roadshow page online for future dates so you too can catch up with them when this truck arrives in your city.
The #PowerBetter road show was created to help ABB distribution partners like ATI Electrical Supply and our customers learn more about ABB's product solutions and their diverse, ever-growing portfolio. The main objective is to provide a deeper explanation of the roles of the products on board, where they belong in the electrical room, and how they work together. ABB gave us the opportunity to expand our team's knowledge regarding a long list of products aboard their roadshow truck to better serve our customers.
This tour included: Medium voltage switchgear and motor controls, combination starters, DPA60 uninterruptible power supplies (UPS), safety switch disconnects, standard load centers, panelboards, circuit breakers, automatic transfer switches, and tons more! ATI is a distribution partner of ABB and their innovative product lines. If you're interested in any ABB products like the ones listed above, you can contact our portable power group at PPG@ATIelectrical.com for a free quote, or you can simply reach out by call or text at (800)-597-9311.
Accompany ATI At the Next ABB #PowerBetter Roadshow
If you enjoyed this blog and would like to join the South Florida ATI team the next time that the ABB Roadshow bus comes to town, be sure to subscribe to our newsletter found at the footer of this page on the right-hand side. Our newsletter subscription allows you the opportunity to receive information on upcoming events and invitations, new products additions and notifications, and exclusive updates that revolve around the electrical industry. Don't miss your chance to join us on the next event or be the first to know about new products - sign up now!
We are beyond excited for the opportunity to show our customers a great time at the next event and would love to have the pleasure of spending the day with you. Also, this is a great opportunity to allow your ATI sales representative to help you expand your knowledge on switchgear and controls face-to-face to incorporate these award-winning products into your next project. We would like to thank ABB for the invitation and for showing us great hospitality during this event. We can't wait to see you again!
ABB's Exciting Products – Disconnect, Load Center, & ATS
ABB's Heavy Duty Spec Setter Safety Switch Disconnect comes standard with an extra-large viewing window so you can easily see your contacts, terminations, fuses, and how the mechanism operates. Save time on your next job site with this safety switch! There's no longer a need to de-energize the switch to open the enclosure for visual inspections. Keep the power on and use the clear line shield to ensure everything is positioned properly within the enclosure. This switch is available starting from 30A up to 200A & 600V in all enclosure types. If you're interested in a customized option or a quick connect with camlocks for a temporary power application, we can make that happen as well!
The Single Phase Load Center is a distribution panel built for residential connections to ensure a safe, fast, and simple distribution of power throughout the entire house. They've added an additional neutral bar that sits underneath the breakers that is connected to the neutral screw on individual breakers. Now you can avoid spending tons of time tracing wires to find out which neutral wire goes to which circuit. Consider the process simplified, now you just have to locate the breaker you need to work on, and you'll find the exact neutral wire associated with the breaker. This electrical panel is available with a main breaker that ranges from 40A to 225A.
One of ATI's favorites is the TruONE Automatic Transfer Switch. It's an all-in-one transfer switch with the capability of operating manually or automatically under load. This transfer switch is one of the smallest on the market and incorporates the switch and controller in one single unit. The TruONE's all-in-one design allows for a simple installation that helps you reduce the labor needed exponentially. We do it all here at ATI, whether you just need a single ATS, or a custom fabricated enclosure encasing an installed transfer switch that incorporates panel mounted camlock connectors on the outside, ATI can make it happen!
Interested in a quote for specific ABB products? ATI can supply you with anything you need! You can head over to ATIelectrical.com to buy directly online or use the interactive chat to talk with one of our product experts in an instant. If you need a formal quote, please email our portable power group at PPG@ATIelectrical.com or call us directly at (800)-597-9311.